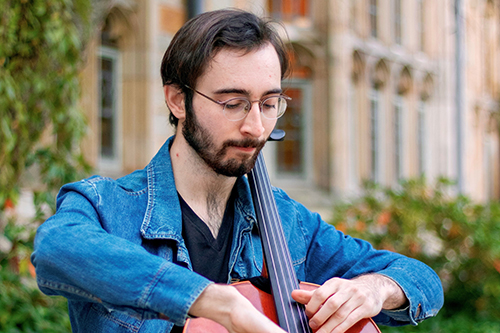 Francis Fedora, YC'2023 Physics & Philosophy major, is one of seven juniors awarded the Joseph Lentilhon Selden Memorial Award for 2022.
The Joseph Lentilhon Selden Memorial Junior Award is given each year to a member of the junior class of Yale College whose verve, idealism, and constructive interest in music and the humanities exemplify those qualities for which Selden is remembered. In recent years this award has gone to students especially notable for their contribution in the field of music.
Francis Fedora, Timothy Dwight College
"A classical cellist, Francis Fedora has participated in key ensembles and curricular programs open to our most dedicated musicians on campus. As a member of the Yale Symphony Orchestra (YSO) since his first year, he has played key roles in the production of the ensemble's Halloween film and wrote the script for this year's 'The Holy Ale.' A dedicated and long-time participant in Yale's chamber musician program and a member of the all-cello ensemble Low Strung, Francis also participates in the Yale Baroque Opera Project. A devoted member of the Timothy Dwight College community he has performed in many of the college's Community Nights. This semester in honor of the college's 2022 Spring semester Chubb Fellow, Hilary Hahn, he led and organized a quartet of TD musicians to perform at the celebratory dinner. As a student at Yale College, Francis is also a dedicated student exploring the world of physics and philosophy. His love of both the humanities and science connects with his desire to engage the world around him. For Francis, music, physics, and philosophy have helped him to navigate a world full of uncertainty and build community and connection especially during the pandemic. A rare combination of tremendous musical talent with a deep passion for his community, Francis embodies the finest qualities associated with the Joseph Lentilhon Selden Memorial Award."
This article has been adapted from the Yale News article published on May 7, 2022. For more information, please see the full Yale News article linked below.