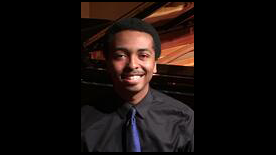 Kameron Duncan, YC'2024 Physics (Intensive) major, is one of seven juniors awarded the Joseph Lintilhon Selden Memorial Award for 2023.
The Joseph Lentilhon Selden Memorial Junior Award is given each year to a member of the junior class of Yale College whose verve, idealism, and constructive interest in music and the humanities exemplify those qualities for which Selden is remembered. In recent years this award has gone to students especially notable for their contribution in the field of music.
Kameron Duncan, Morse College
"Kameron Duncan is receiving the Joseph Lentilhon Selden Memorial Award honoring a junior with particular 'verve, idealism and constructive interest' in the field of music. As a physics major on the intensive track, Kameron balances a unique combination of excellence with both the performance arts and the sciences. His masterful skills in piano are a gift he shares willingly, even when he sprained his hand and even during COVID. While all classes and extra-curricular functions were taking place on Zoom, Kameron offered free piano lessons as a way to draw students together and share in the joy of music. Kameron has also excelled at Yale as a member of several music groups, including playing chamber music, singing in choral and A capella groups, and joining the Yale Guild of Carillonneurs. Kameron is a very well-loved member of Morse College. He never seems to steal the limelight — being as discreet as he is talented. His senior year will no doubt be filled with weekend after weekend of musical performances for all of Yale and the New Haven community to enjoy."
This story was taken from the Yale News story of May 5, 2023. Please see below for the link to the original story.