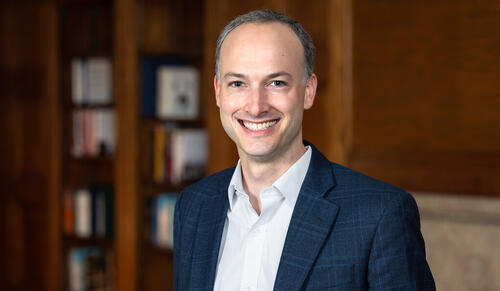 Matthew S.T. Mendelsohn graduated with Distinction in the major in Physics in 2007. He started work in the Yale Investments Office right after graduation and has now been appointed Yale's chief investment officer.
Mendelsohn, 36, succeeds his mentor, David Swensen '80 Ph.D., who died in May after a nine-year battle with cancer. Swensen led the Yale endowment for more than 35 years, transforming institutional investing the world over, establishing Yale as a global leader in endowment management, and teaching a generation of talented investment professionals. His mentees have gone on to lead the endowments of Princeton, Stanford, MIT, and the University of Pennsylvania, among other major institutions, and now of Yale itself.
Raised in St. Louis, Mendelsohn earned a bachelor of science degree in physics from Yale. Upon graduation he was hired by Swensen, whom he first met through Yale's Berkeley College, where Mendelsohn remains a fellow. From 2013 to 2018, he co-taught a course on endowment management at Yale School of Management with Dean Takahashi, former senior director in the Investments Office and now executive director of Yale's Carbon Containment Lab.
Click below for the full story.