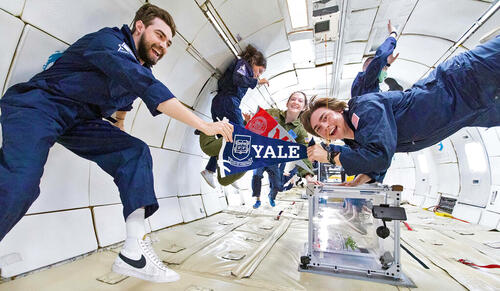 In Yale News (July 7, 2021), "Plans for a future age: Project launches 'Yale-o-nauts' into zero gravity"
Meuser and two Yale School of Architecture classmates were aboard a zero-gravity parabolic research flight, which emulates gravity-free conditions in an aircraft, testing prototype items that they had created as part of a course, "The Mechanical Artifact: Ultra Space."
The course, offered this spring by the Yale School of Architecture, asked students to consider how humans might prepare for the lived experience of space.
"An amazing experience," Meuser said of the flight, which completed 20 parabolas simulating lunar, Martian, and zero gravity (zero-g). "It provided valuable new perspective."
For the course, students were encouraged to imagine an architecture for a new Space Age in which humans populate the moon, Mars, and orbiting outposts. They conceived, designed, and fabricated "artifacts" of this future age — objects and devices, such as storage containers, flower vases, and specialized cameras, that might become part of the fabric of off-planet life in the not-too-distant future. As a capstone, three students, including Meuser, deployed their prototypes in zero gravity.
The course and the zero-g experience were part of a collaboration between the School of Architecture, the Center for Collaborative Arts and Media (CCAM), an interdisciplinary research hub that blends traditional arts with science and technology, and the MIT Media Lab Space Exploration Initiative, a project that supports cross-disciplinary research aimed at democratizing access to space.
CCAM Director Dana Karwas, a critic at the School of Architecture, established and taught the class with Yale alumna Ariel Ekblaw '14 B.S., founding director of the Space Exploration Initiative. Ekblaw also secured the spots on the research flight for the three "Yale-o-nauts" — a term Meuser coined.
Ekblaw (YC'2014) graduated with with distinction in the major in physics and Mathematics & Philosophy. After graduation she attended MIT where she earned a doctorate in space architecture.
Click below for the full story.