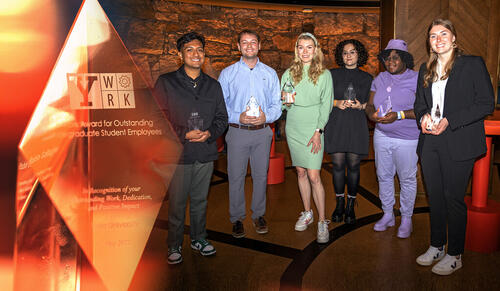 Ryan Flynn, physics intensive major, was one of ten students honored with a Y-Work Award.
The Y-Work Award is given annually to 10 students whose dedication to their term-time jobs had a positive impact on the campus community. The awards, first introduced in 2019, were created by the Yale College Dean's Office and the Office of Undergraduate Financial Aid.
Ryan Flynn's citation follows.
Ryan Flynn '22, undergraduate learning assistant (ULA), Department of Physics
Supervisor: Adriane Steinacker, senior lecturer in physics
"Ryan provides key support to students as a ULA, facilitating discussions, explaining difficult concepts, and guiding students toward the correct solution path for problems. Ryan is impeccably knowledgeable but also has the rare skill of being able to break down complicated concepts to make them more accessible and put his fellow students at ease and help grow their confidence. His supervisor notes that 'Ryan is fully functioning at the level of a graduate student, if not above, and his generosity toward his fellow students goes well beyond the call of duty.'"
This article was excerpted from the Yale News article of May 4, 2022 by Susan Gonzalez. Click below for full article.